Source: University of Maine
With new developments in so-called "precision technology," farmers can use high-tech tools to learn more about their land and animals — and improve their practices. Glenda Pereira, assistant extension professor and dairy specialist at the University of Maine Cooperative Extension and assistant professor of animal science at the School of Food and Agriculture, is leading a project with Maine dairy farmers that uses electronic ear tags that track cow movements with the hopes of learning more about how to best care for them. The project brings together UMaine researchers, alumni and the dairy farming community for research that is just as much about interpersonal connections as it is about connecting to new technology.
Pereira joined the staff at UMaine as a dairy specialist about two years ago. Coming from Minnesota, the Maine dairy scene was somewhat familiar — she had worked with many organic dairy farms, for example — but also unique in the diversity of its systems.
"I've lived in a lot of places, but specific to Maine, there's so much potential for diversification — not only in a production system but if you're wanting to diversify just outside of producing milk, you can sell beef, you can make products on your farm and you can sell those products to the consumers, there's a lot of potential for agritourism," Pereira says. "Maine has the clientele and consumerism to support local farms to be able to have that opportunity."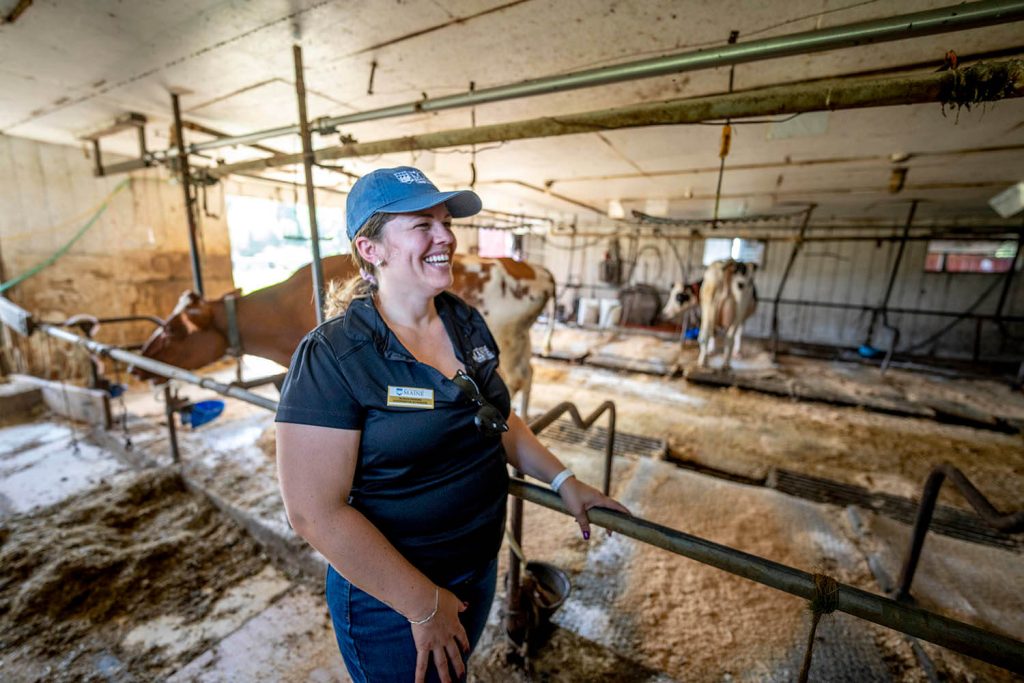 Before arriving at UMaine, Pereira also had some research experience looking into the use of precision technology on dairy farms. Her master's work at the University of Minnesota focused on the potential use for electronic ear tags and collars on organic and low-input conventional farms because, unlike some other innovations in farming practices, precision technology does not butt up against the requirements of organic certifications.
"[Organic farms] don't have all the tools conventional farmers use, like reproductive technologies such as estrus synchronization programs to be able to set their ovulation period," Pereira says. "What a great opportunity to see how these technologies work in that space."
Soon after she started at UMaine, the Northeast Dairy Business Innovation Center (NE-DBIC) invited Pereira to submit a proposal for a technical assistance project that involved at least five farmers. The organization was looking to do more work in Maine, and Pereira's previous research intrigued them. She was mulling over what exactly she wanted to propose, when she was inspired by a presentation at the Maine Dairy Seminar by Rick Grant at the Miner Institute in New York about rumination time, lying time and the improvement of cow welfare and production. Grant used precision technology to track when cows are standing up versus lying down, which is when they rest, ruminate and produce milk.
"You have to find this perfect happy medium, and using that behavioral data, you're able to make those management decisions," Pereira says. "When I collected the evaluation forms at the end of the seminar, a lot of people wrote down that they really loved this rumination presentation. I kind of sensed this need for more education of precision dairy technology because I had this background it was a perfect fit. I wrote up the project and the rest is history."
Pereira's idea was to see if ear tag data could be used to accurately observe and optimize the "cow time budget," or the way that the cows spend their days given the space and resources they are provided. Pereira gathered a cohort of five dairy farmers across the state to participate in the research starting in February 2023.
Pereira says that one of the biggest assets for getting the program off the ground was the support from — and networks developed by — UMaine's retired Extension dairy specialists, including Rick Kersbergen, Gary Anderson and David Marcinkowski.
"Their relationship with the Maine dairy industry was so strong and they really had connected with and created those relationships. I think it really set me up for success to be able to conduct my work with the dairy farmers," Pereira says.
Once Pereira had her cohort, the farmers were trained on how to use the new technology, which comes from a company called CowManager, as well as how to collect data from the ear tags that Pereira could use in her research. The tags can track the animals' temperatures and detect when they are doing certain activities, like chewing cud or running around the barn.
"We're still seeing how it works on some farmers versus other farms and learning a little bit about what works and what doesn't," Pereira says. "Not all farms are the same and some farms have issues with internet connection like the one farm that's near the airport and it has issues with radio frequency. There's some work to still work through and learn."
One of the farmers that Pereira recruited was Heather Miller, herdswoman at R.E. Hemond Farm, Inc., in Minot. Miller is a UMaine alumna of the animal sciences program who graduated in 2017. She minored in equine sciences at school but learned that she wanted to work with cows after milking them for a class.
"I milked [at Witter Farm] almost every semester," Miller says. "I was there for five years and milked there for nine semesters. I was at the farm all the time."
Miller says that so far, she loves the new precision technology on her farm — and, as a bonus, she has also enjoyed her time with Pereira and the opportunity to continue contributing research to the program that helped her figure out her path.
"She's very personable and she's easy to work with, especially when it comes to cows," Miller says. "You can tell she has a love for cows. She's in it for the cows, and she's in it to help us."
Indeed, Pereira makes sure that she gets out in the field as much as possible. She and her graduate student Ana Jimenez spend their time traveling around the state helping the cohort of dairy farmers run this project.
"One of the things that impacts me a lot about this particular project is not just about the system or the goals that we have — it's being able to see Dr. Glenda [Pereira] and how easily she can connect with all the farmers," Jimenez says. "She cares about their needs in a really genuine way. That's one of the most important things I'm learning from her. When we go to the farms it's two or three hours driving. She drives happy because she loves her job."
Jimenez was working as a veterinarian at a clinic in Lima, Peru, when one of her colleagues — who knew she always wanted the chance to study in the United States — sent along a job posting from UMaine looking for a researcher with a background in animal science. She started working on research about the nutrition of feed stock with Juan Romero, associate professor of animal nutrition, and then joined Pereira's research, where she assists with research as well as designing graphics and other communications information for the project.
Jimenez enjoyed the experience so much, she will continue her work with Pereira and Romero next year.
Pereira says she hopes that undergraduate students will be able to get involved through the project, too, through the Animal and Veterinary Science capstone program in the fall.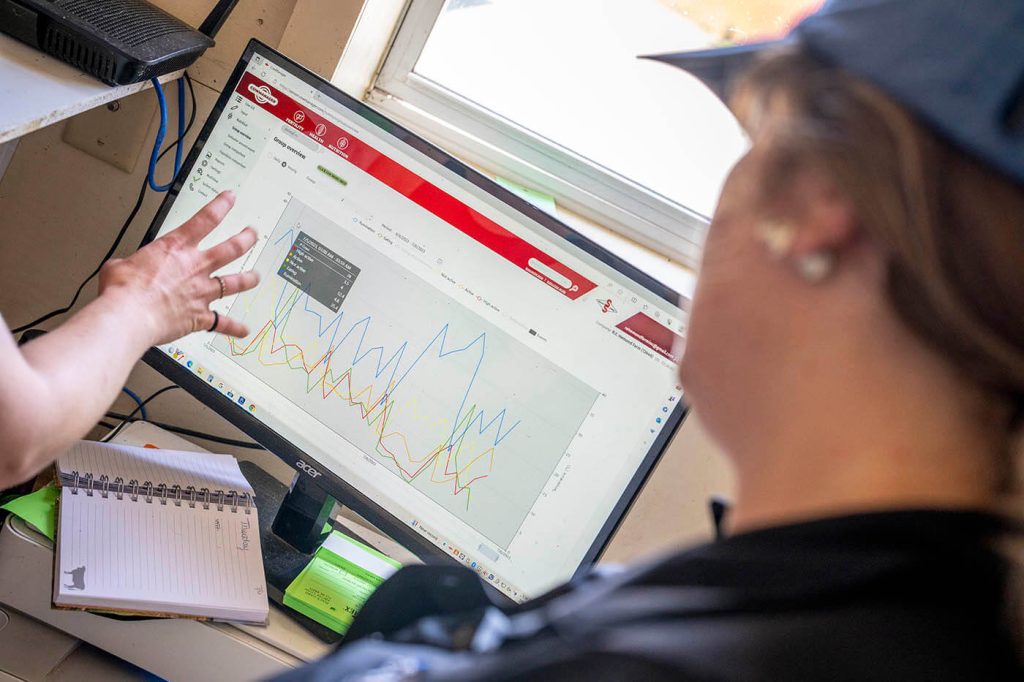 Though the project is set to run through February 2024, Pereira, Jimenez and the farmers have already learned a lot from the data they've gathered. For example, Pereira explains, the behavioral data demonstrated that when cows are fed every day at the same time, they also eat right away after exiting the milking parlor, then ruminate and lie down for longer following that feeding, which promotes milk production and udder health.
"Cows are really habit animals and they really like to have the same schedule every day," Pereira says. "We were able to use that data to find that they just thrive in an environment where they have that consistency."
Beyond the data, though, the most valuable part, Pereira says, is the peer-to-peer connections that she has been able to facilitate between dairy farmers.
"I think that has been so successful," Pereira says. "For a lot of farmers — specifically dairy farmers because of their schedules and having to milk — it's tough to get off the farm and socialize. I can sit here and lecture them about feeding management all day, but when they're learning from people who are in their same shoes they can really take that home with them and say, 'Hey this works at this farm. I think I can try it.'"