Source: Michigan State University, Heather Chapman, Michigan State University, Department of Entomology, and Brook Wilke, W.K. Kellogg Biological Station
There are many ways to establish pollinator habitat. This case study provides one example for farmers who are interested in establishing habitat to help pollinators while also increasing their farm's productivity by using pollinator plantings known as prairie strips. These strips are exactly what they sound like—strips of prairie. Prairie strips can be placed in a variety of locations within a farming field to benefit the farmer in a variety of ways. These benefits may include an easier farming path by avoiding obstacles in fields like powerlines and reducing inefficiencies that are often associated with irregular shapes of field edges.
Background
The Michigan State University (MSU) W. K. Kellogg Biological Station (KBS) works with the United States Department of Agriculture (USDA) on many long-term agricultural research projects, including Long-Term Agroecosystem Research (LTAR). The LTAR program is a partnership of 18 long-term research sites across the United States to meet future sustainability challenges for our cropping systems. Particularly at KBS, the team is looking into ways to advance food production and create a positive environmental outcome in agriculture by utilizing innovative ideas such as prairie strips.
The work at KBS has been inspired by the Iowa State University program that initiated research into prairie strips with the STRIPS (Science-based Trails of Rowcrops Integrated with Prairie Strips) program. The team at KBS collaborated with the Iowa STRIPS team to create MiSTRIPS, a Michigan based program out of KBS to further research into how to effectively incorporate prairie strips into Michigan farming fields.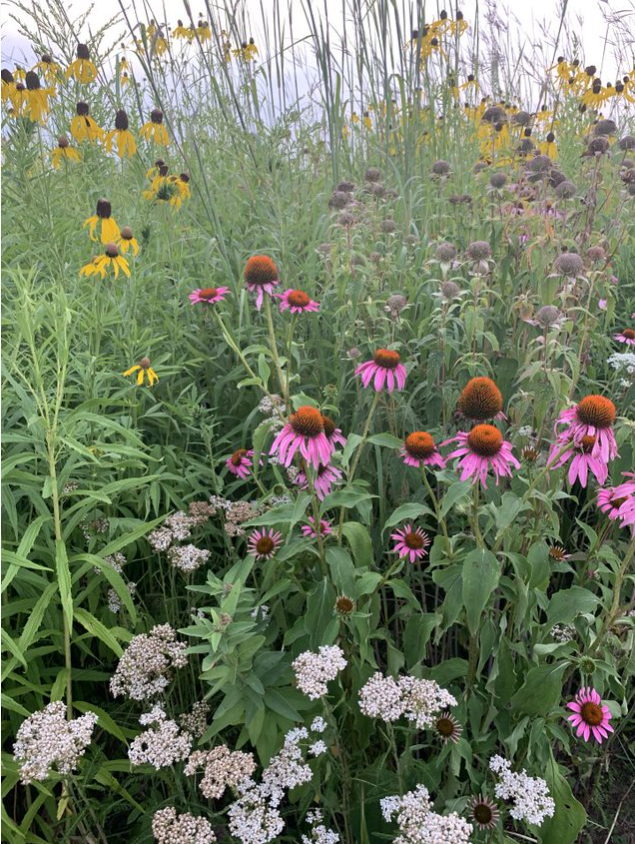 Brook Wilke is the associate director for agronomy and science at the KBS LTAR Program. In this role, he conducts research on agronomic advances to improve efficiency and sustainability of crop systems while overseeing all activities that are done for KBS LTAR. Wilke's passion for landscapes began in his childhood on a crop and livestock farm. This passion paired with his love for fishing and hunting helped him gain appreciation for the landscape as a mixture of both farmed and non-farmed habitat that support the wildlife and the crops that he was interested in. His current role at KBS builds from this foundation, allowing him the opportunity to improve agroecosystems through his research with his team. His role within MSU offers many collaborations with other researchers, including Bruno Basso of MSU, to further improve his ongoing research.
Goals
The goal of the KBS LTAR research project at KBS is to compare typical (business as usual) farming practices to aspirational farming systems. This project aims to increase the farmer's profit per acre, reduce inefficiencies in farming, expand ecosystem services (e.g., climate mitigation, water quality, biodiversity, pollination), and improve the benefits gained from the agroecosystems (e.g., food, fuel, fiber, and general human wellbeing.) The prairie strips are placed in areas that are low yield, problematic for farming, and/or simply the easiest for the individual field.
Site selection
The overall site selection process was very thorough to make sure the planted prairie strips did not disrupt farming activities and would not be damaged by farming equipment or future herbicide applications. Wilke did extensive research into the potential sites to identify the areas of the field that would benefit most from the strips. First, with assistance from the Basso lab, he gathered many years' worth of yield maps to create yield stability and profit maps for each field. He targeted areas that were of low yield and may have not made economic sense to plant, and he marked areas of high yield that would not make sense to put into prairie.
Wilke also looked for areas with unique physical land characteristics that are difficult to farm or risk erosion, including waterways within fields. Powerline areas were also considered, as it is common for farmland to have powerlines stretch through the field. These areas often require that the farmer drive in odd patterns, often retracing paths and leading to overlaps and wasted fuel, time, and resources.
Prairie strips can work well when they are planted in low-yield areas and when they are used to promote more efficient coverage with full-width driving passes, eliminating backtracking and overlap. It was important that the selected sites were converted to prairie and not to forest, as facilitating more encroachment of trees into the field would likely result in more unprofitable acres due to tree competition with crops.
With Wilke's suggestions in hand, the Steering Committee responsible for KBS LTAR decisions decided to install at least two 30-foot-wide prairie strips within each field: one in the middle and one on the edge. Rectangle blocks of prairie were also added in areas that previously had a negative profit and also had little hope of yield restoration. Each strip was placed at a distance from the field edge that allowed the farm equipment to make full width passes to prevent overlap in crop rows.
The prairie strips placed on the field edges were easily selected based on historic low yields and proximity to tree lines. The placement of the prairie strips in the middle of the field had a strong research component for this project with hopes of learning what role, if any, the prairie strips play in biodiversity enhancement, erosion control and runoff prevention. Prairie strips in the middle of a non-research field can be used under powerlines, in areas of low and/or unpredictable yields, and as a means to slow water and sediment flow on slopes. The overall result was 25 unique prairie areas across 10 different fields.
Plant selection
To have consistency in plant species across KBS projects, Wilke chose plant mixtures that were previously used in another long-term research project (KBS LTER). He used a 4-pound-per-acre mixture of four grasses and 18 forbs, which were sourced from a local producer, Native Connections. This mixture was chosen as a forb-heavy mix excluding grasses that would have dominated over the forbs. It was important that the mixture included flowering species that bloomed throughout the growing season. No switchgrass was added to the mix in order to avoid too much competition among the grasses.
Wilke exclusively used seeds, rather than plugs, to minimize cost and labor due to the vast 20-acre area that was planted. Transplants would have added a lot of extra work onto the project, making seed planting an easier route. Wilke chose to add a cover crop to the seed mix as a combination of Annual Ryegrass (5 pounds per acre) and oats (20 pounds per acre) to reduce run-off and weed pressure and to increase flow in the planter.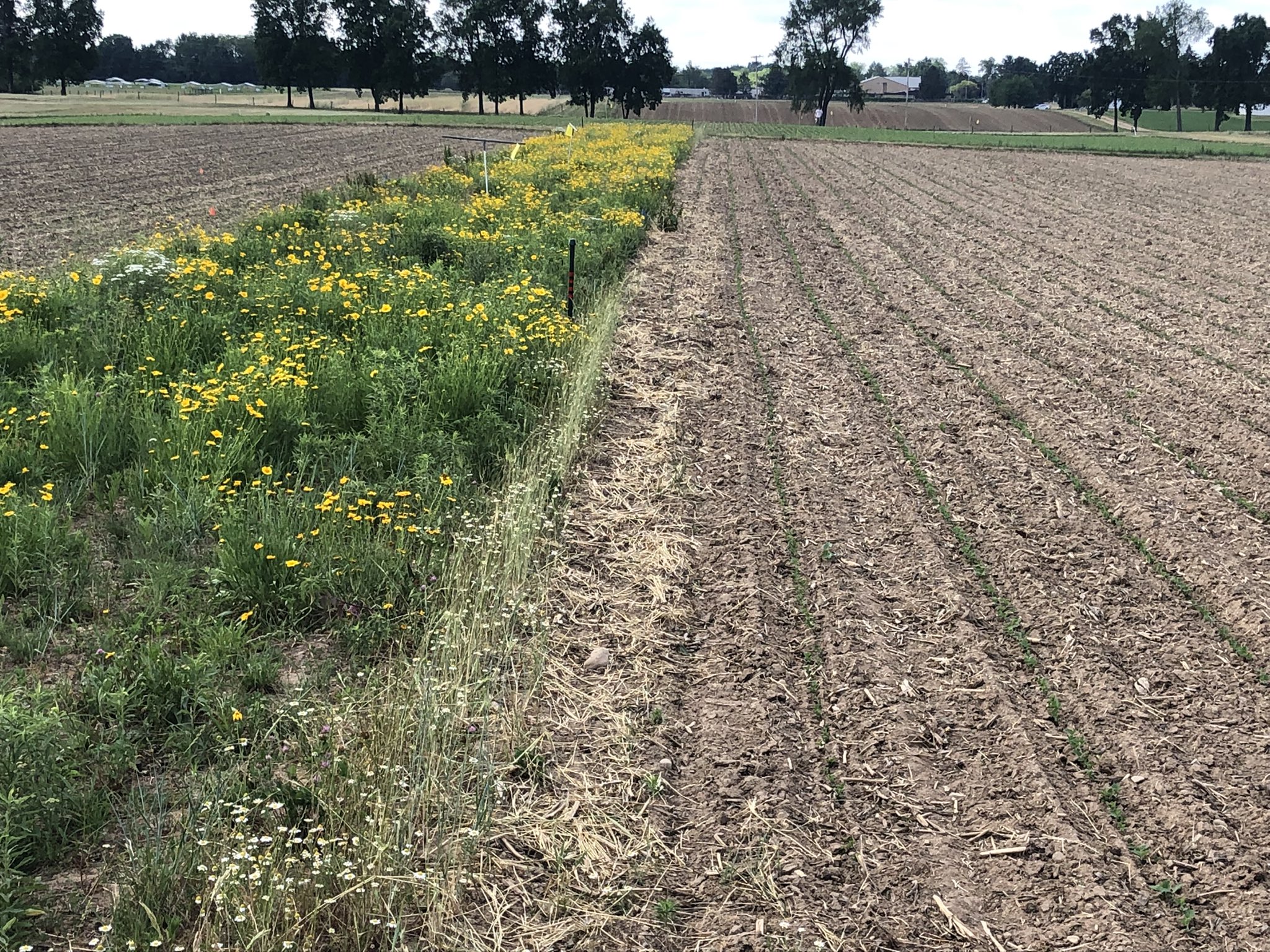 Site prep
The soil in the selected sites was alfisols (sandy loams), which was great for the previously planted row crops. The sites had been planted with corn grain the year prior to prairie installation, making invasive plants of little concern but leaving a lot of bulky corn residue. For the area that would be replanted in row crops, Wilke planned to no-till seed following an herbicide application of glyphosate or glufosinate. No herbicide was applied to the prairie strips before planting since the tillage controlled any weeds that were present. The prairie strip areas were instead disced in April to incorporate the corn residue and improve the seedbed conditions. This discing was followed by a shallow soil finish and cultipacking right before planting in May. If the fields had previously been planted with soybeans or wheat crops, there would have been significantly less residue, and Wilke would have likely used no-till methods to establish the prairie strips.
Planting
Wilke originally looked into contract planting, which would have led to different equipment being used than what KBS owned and resulted in scheduling restrictions to accommodate the contractors. Ultimately, he decided it would be best to plant themselves. This way, he would be able to plant on his own schedule using KBS's equipment and ensure the GPS technology that was used during planning would fit the specific dimensions of the prairie strips.
In late May, Wilke planted the prairie mix using a 15-foot-wide John Deere 1590 no-till grain drill. To allow the seed mixture to flow through the drill without sorting or bridging in the hopper, he used a combination of Annual Ryegrass (5 pounds per acre) and oats (20 pounds per acre) mixed with the native seed (4 pounds per acre). Some of the fluffy native seeds accumulated in the seed cup area of the drill over time and created a packed area that reduced seed flow. This packed area seemed worse after allowing the drill to sit over a weekend with seed stored in it and resuming planting the following week.
Overall, the mixture planted OK, despite having the few minor individual row plugging issues and a slightly decreased seeding rate relative to the expected rate based on calibrations. To make up for the slightly low seeding rate, Wilke and his team came back to the prairie strips in December and broadcast seeded the remaining prairie seed, which is expected to germinate the following year.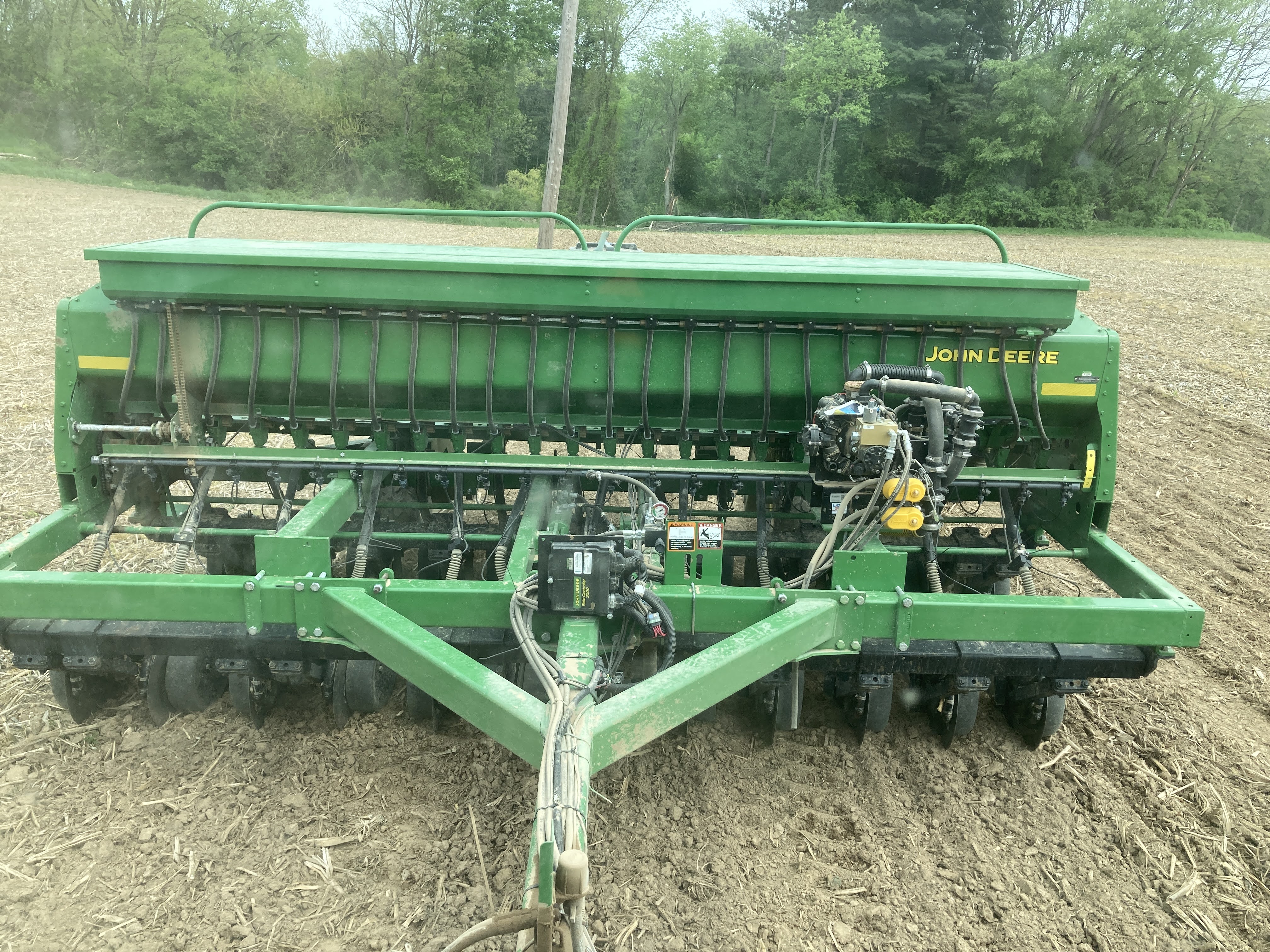 Long-term maintenance
All of the native seeds that were planted in the strips were perennials, so planting only occurs once. In subsequent years, the strips will be maintained only to manage weeds, woody plants, and invasive species using a combination of mowing and burning.
The use of a nurse crop of ryegrass and oats along with the prairie seeds reduced weed pressure and erosion in year one. After planting in late May, the sites were mowed at about 8 inches high, once in July and again in September/October. Wilke is planning to mow the sites at least once in years two and three, either at the end of the year or in early spring. A summer mow will be done only if there is a need to reduce weed seed production. He will also continue to manage tree limbs on the edge of the field strips, both limbs that fall into the field after storms and limbs that grow too low to prevent a tractor driving under the canopy. Burning will be considered in the future but will depend heavily on the adjacent crops.
The KBS team has many options for benefitting from the pollinator strips in future years as well. There is potential for cattle to graze on the fields that will also include grazing on the prairie strip. The biomass on the sites may be harvested at some point for bioenergy purposes, but these plans remain undetermined as KBS LTAR is still in relatively early stages of this project.
Reflections
Significant work went into the planning and design of the prairie strips as it was critical for there to be adequate research opportunities and important to make sure the design was reasonable for farmers to efficiently navigate the fields. Wilke stresses the importance of knowing the site's previous usages prior to planting. Though it was ultimately successful, planting prairie immediately after a corn grain crop led to struggles overcoming the residues and left a concern for potential herbicide carryover. Knowing the history, however, Wilke was able to better understand what to expect with the strips in the future.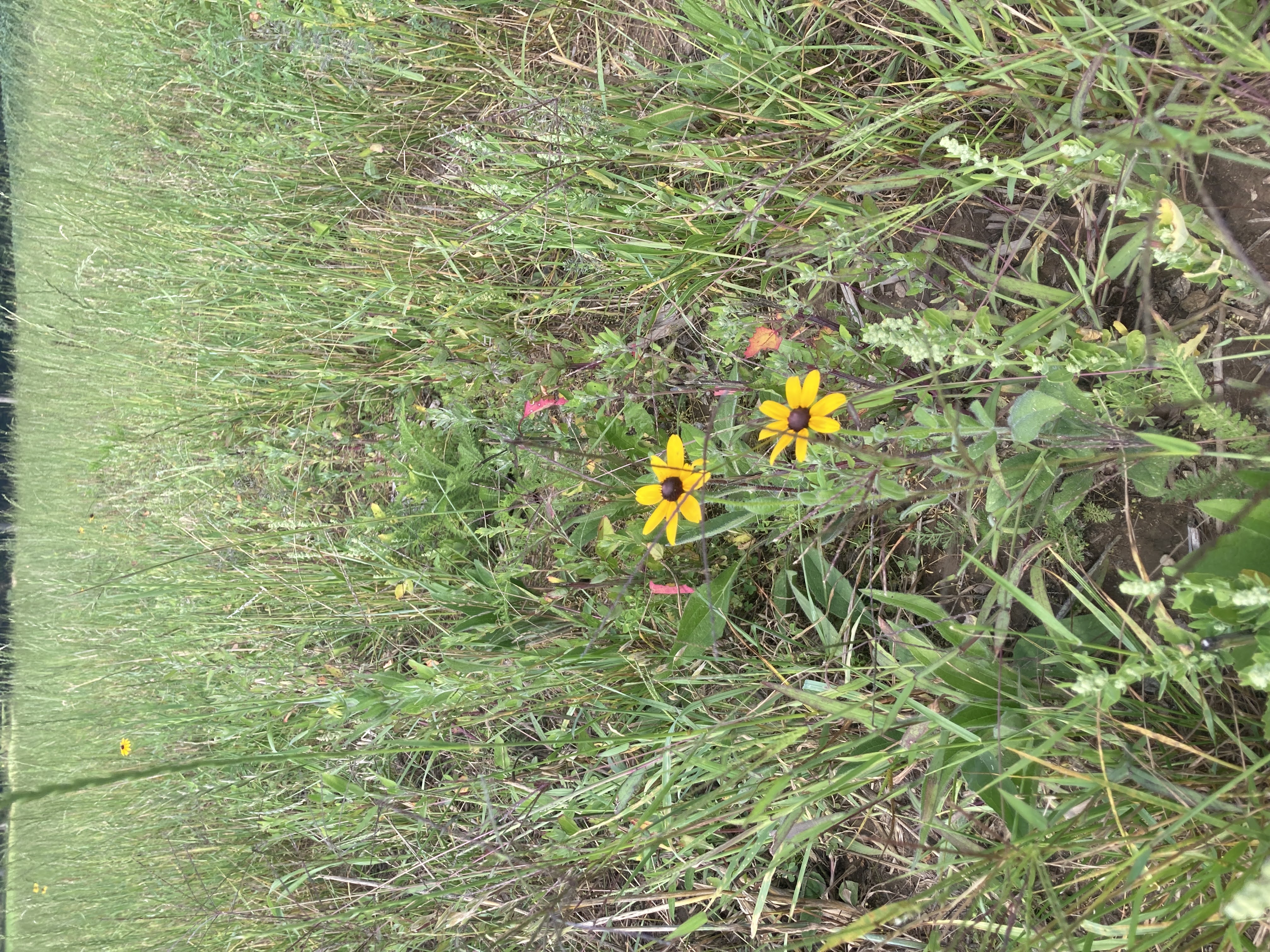 Despite the few setbacks during the process, the experience overall has been positive and has provided a huge teaching and research opportunity. Wilke and the team at KBS will be able to examine how many different prairie site factors influence the establishment and relative success of several plant species. The edge-of-field experiments specifically will lead to findings on the effects tree lines have on prairie establishment and whether there is any influence on livestock damage to crops along the edges.
Though these particular sites are still early in their establishment, the team has seen strong success in their other plots at the research station that used the same seed mixture. The first year was weedy, but the second year showed definite signs of native plants. It wasn't until the third and fourth years that KBS researchers finally saw a strong establishment of natives with floral diversity.
Summary
There are many opportunities for this research to expand and be incorporated into today's farming fields. With the establishment of even small prairie strips into farming lands, pollinators will be greatly helped, and the farmers' efficiency can be improved.
Bees and beneficial insects comprise the world's hardest-working workforce. With over 450 species of bees in Michigan, creating a diverse habitat that helps them thrive and will have far-reaching impacts on our state.